Truck Accident Insurance Requirements for Motor Carriers
All motor carriers must comply with state or federal insurance requirements, depending on whether they operate solely in one state (intrastate) or across state lines (interstate). It's important to first understand what type of trucking company is involved in a collision before determining the minimum amount of insurance coverage that may be available to resolve a claim.
Georgia Trucking Insurance Requirements
Let's start local.
The Georgia Secretary of State's Rules and Regulations require all Georgia motor carriers to comply with a specific schedule of limits. Rule 515-16-11-.03 requires "all motor vehicles used in the transportation of property" to carry minimum insurance limits of $100,000 per person or $300,000 per incident (i.e., for all persons injured in one collision).
That same rule requires all motor carriers of passengers to carry a minimum $100,000 per person. Motor carriers of 1-12 passengers only have to have per-incident limits of $300,000 while motor carriers of more than 12 passengers must have per-incident limits of at least $500,000.
Truck Accident Insurance Federal Requirements
Now, let's discuss national.
Interstate motor carriers come in all forms. The most common interstate motor carrier is a motor carrier of non-hazardous property (except household goods).
These common carriers must have a minimum of $750,000 in coverage in place in the form of an insurance policy or surety bond, and they must present proof of that coverage to the Federal Motor Carrier Safety Administration in order to obtain their permit to operate as an interstate motor carrier.
Truck Accident Insurance Requirements for Special Cases
Hazardous Materials
There are also motor carriers of hazardous materials and non-hazardous materials. Hazardous materials include explosives, toxic materials, and methane. In order to haul these hazardous materials, a motor carrier must first obtain a special permit through the Federal Motor Carrier Safety Administration.
As part of that application process, the motor carrier must provide proof of having insurance limits of at least $1 million (for hauling oil) to $5 million (for hauling other dangerous materials).
Passenger Transport
Finally, there are two types of motor carriers of passengers. Motor carriers that only have the capacity to transport 15 or fewer people must have at least $1.5 million in coverage while motor carriers that have the capacity to transport more than 15 people must carry at least $5 million in coverage.
For a detailed breakdown, please reference the chart below: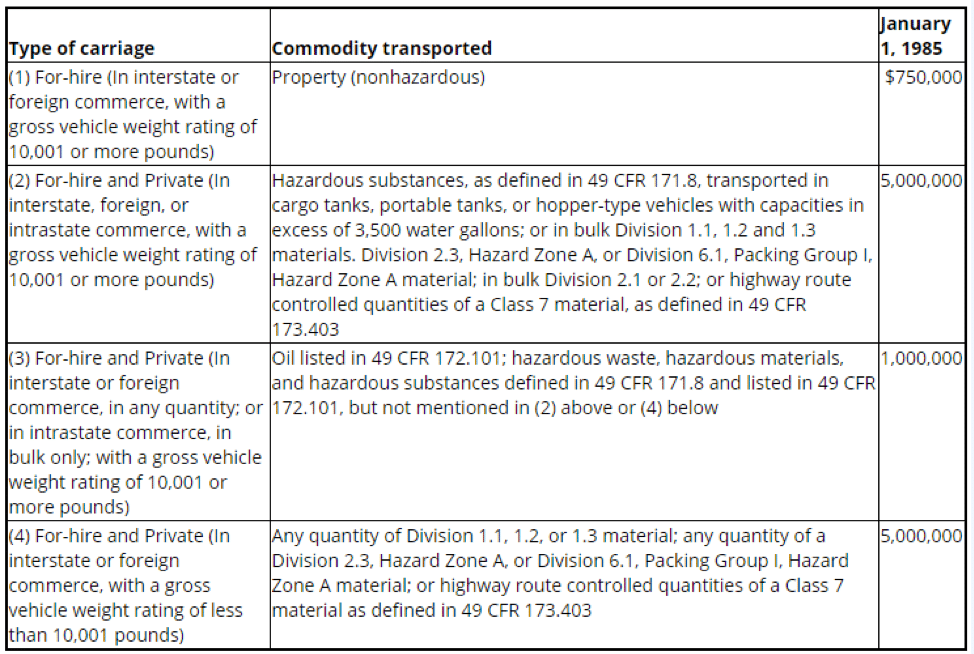 Some of these minimum limits may not seem like enough to fully and fairly compensate someone who suffers severe injuries in a collision. In many cases, that's true.
Unfortunately, the state and federal laws governing motor carrier insurance limits are designed to provide some protection, rather than full protection, for the motoring public.
MCS-90 Endorsement
Another important component of the motor carrier insurance picture is the MCS-90 endorsement. The MCS-90 endorsement attaches to a policy of insurance issued to an interstate motor carrier.
The endorsement requires the insurer who issues a policy to the motor carrier to act as a surety for any injury to the public caused by the interstate motor carrier even if the actual insurance policy does not provide coverage for the loss.